KVM Switchboxes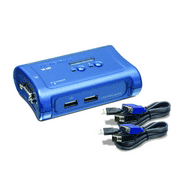 Why Choose Frontier PC?
Frontier PC specializes in rapid delivery from a network of local warehouses in Canada
Questions!
Call our technical sales staff.We are here to assist you
Monday to Friday 9:30am to 9pm Eastern.
Vancouver, BC:
(604) 739-8060
Toronto ON:
(416) 800-4312
Calgary AB:
(403) 775-1291
Halifax NS:
(902) 800-4465
Ottawa ON:
(613) 686-4717
Winnipeg MB:
(204) 800-4372
Victoria BC:
(250) 800-2569
Edmonton AB:
(780) 628-6630
Montreal QC:
(438) 288-3640
Quebec City QC:
(418) 263-4870
Proudly Canadian for 20+ Years
Same Day Local Shipping
Real-Time Stock & Price
Enhanced Product Information
Dedicated Account Reps
Secure Online Checkout
Order online or by phone before noon local time and you order of in-stock item will ship on the same business day.
Select a Sub-Category/Brand or Search all products in
KVM Switchboxes
category.
Or Choose from our Top Sellers from this category
4 Computer(s) - 2048 x 1536 - 6 x USB - Desktop
Tripp Lite's B006-VU4-R KVM Switch is the optimal solution for controlling up to 4 USB computers from one VGA monitor and USB keyboard/mouse. Manually switch between connected computers using push buttons or hot key controls or monitor connected computers automatically via Auto Scan Mode.

The data and images on this website have been subjected to numerous control mechanisms to ensure its' accuracy. FrontierPC.com will use best efforts to maintain its accuracy. However, if at any time the data or images provided are incorrectly priced or below fair market value or availability has substantially changed or image or descriptions contain inaccuracies, FrontierPC.com shall not be held responsible or liable, furthermore FrontierPC.com reserves the right to reject any orders placed based on this erroneous information. Copyright 2001-2014 FrontierPC.com Computer Inc., Frontier PC Canada, Frontier Computer,Toronto, Vancouver, Calgary, Halifax. All Rights Reserved.